Police Dept Home Page
Mission Statement
The mission of the Boardman Police Department is to enhance the quality of life in Boardman Township by working in partnership with the community to preserve life, enforce the law, provide quality services, reduce the fear of crime, and to promote joint problem-solving for safe, secure neighborhoods.
For emergencies, dial 911
Non-emergency calls, dial 330-726-4144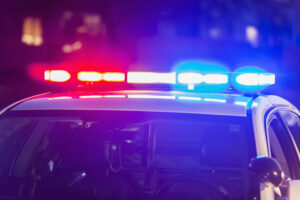 Boardman Township Test for Entry-Level Police Officer
The Boardman Township Civil Service Commission will be administering an Entry Level Police Officer Exam on Sunday, October 9th, from 6:00 pm to approximately 8:00 pm. Additional information including eligibility requirements and registration material will be posted on the Boardman Township website https://www.boardmantwp.com/civil-service/
The testing process starts with a two-hour written multiple-choice examination administered on October 9th. Additional points are awarded based upon military service, educational background, and current OPOTA-C officer certification. Drug screening, medical physical, physical fitness tests, and panel interviews will follow the initial written examination based upon a ranking of the candidates.
Applicants are able to apply for and take this Boardman Civil Service test without a completed OPOTA- C police academy certification. At the discretion of the Boardman Township Trustees, a candidate completing all applicable civil service requirements during the testing process may be selected for conditional employment and attend an area police academy at Boardman Township's expense, while also earning pay and benefits as a conditional employee.
Compensation: The wage scale for non-rank patrol officers is $40,456 to $67,142 with wage/step and cost of living increases based on the collective bargaining agreement. Pay increases with shift differential, contractual incentives, and available overtime. Officers also receive health care benefits including an annual health savings account, annual uniform allowance, and other contractual benefits (holiday pay, shift differential, overtime, opportunities, etc.). A $3,000 hiring bonus is available.
Click here for more information
Boardman Police Department Open House
(Monday, September 26th from 7-9pm)
We will be conducting an Open House at our department on Monday, September 26th from 7:00 pm to approximately 9:00 pm. This is open to anyone interested in learning more about a law enforcement career or becoming an employee with the Boardman Police Department. You do not have to have an application submitted to the Civil Service Board, or even have decided that you are going to apply, to attend the open house.
The open house will be held at the Boardman Police Department located at 8299 Market Street, Boardman Ohio 44512.
7:00pm Start/Opening Remarks (Trustee meeting room) Overview of the Police Department
7:30pm Police Department tours – Stations: Patrol Operations/Roll Call room, Operations/Detective Bureau, Narcotics Enforcement Unit/SWAT, Crime Scene Techs/Evidence Room, School Resource Officers, Federal Task Force Officers.
8:15pm Overview of the application process (TBD – civil service test prep)
While you do not need to attend the open house to apply or take the test, we hope to see you there. Please rsvp by sending an email to me at twerth@boardmantwp.com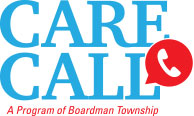 CARE CALL: Peace of Mind for You and Your Loved Ones
The Boardman Township Police Department and Fire Department, with the support of the Township Trustees, are offering the CARE CALL program to Boardman residents — in particular, the elderly or disabled.
CARE CALL is a free and easy way for you to enjoy the peace of mind of knowing that your your loved ones are well and have not fallen victim to an accident or illness in their home that has rendered them unable to seek help.