Land Bank Program Highlighted at Zoning Department Open House
Township residents learned about the Boardman Township Land Bank, as well as other initiatives, during the Boardman Zoning Department's Open House, which took place at the Township offices November 10.
Sarah Gartland, Zoning Inspector and Marilyn Kenner, P.E., Assistant Zoning Inspector were on hand to explain the Land Bank and how it fits into The New Boardman Land Plan, which is designed to stabilize neighborhoods in the township.
Under the Land Bank plan, the township acquires condemned or tax-delinquent properties and demolishes the houses on those properties, which are often dilapidated and in dangerous condition. The township may also acquire similar homes that were originally taken over by the Mahoning County Land Bank.
The township then "banks" the property until a suitable use is found for it. For example, adjacent property owners may be encouraged to purchase the vacant property, which is made available at a fair-market value. The goal is to protect residents who live near the dangerous properties and also to prevent ill-fitting new developments that can ruin home values in a neighborhood. An added benefit is that, when the properties are purchased, they can be returned to township tax rolls.
The township has demolished approximately 20 such houses since 2013, and the demolition program is expected to continue at a rate of about five additional structures per year.
At the Open House, Zoning Department officials showed off newly designed signs that will used to identify properties acquired by the Land Bank and demonstrated a new section on the township website (www.BoardmanTwp.com/Landbank) that lists the available properties.
Certain conditions must be met in order for adjacent property owners to acquire the vacant land. Details and necessary forms are available on the website. Or the Zoning Department may be contacted for more information at 330-726-4181.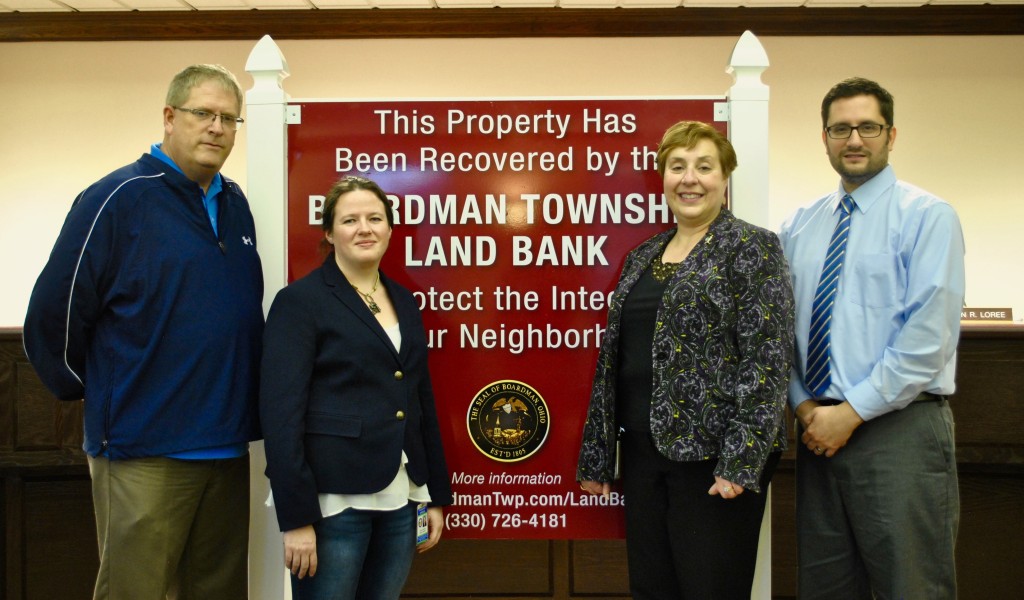 Officials display new signs that will designate properties acquired by the Boardman Township Land Bank. L-R: Brad Calhoun, Boardman Township Trustee; Sara Gartland, Zoning Inspector; Marilyn Kenner, Assistant Zoning Inspector; Jason Loree, Boardman Township Administrator.