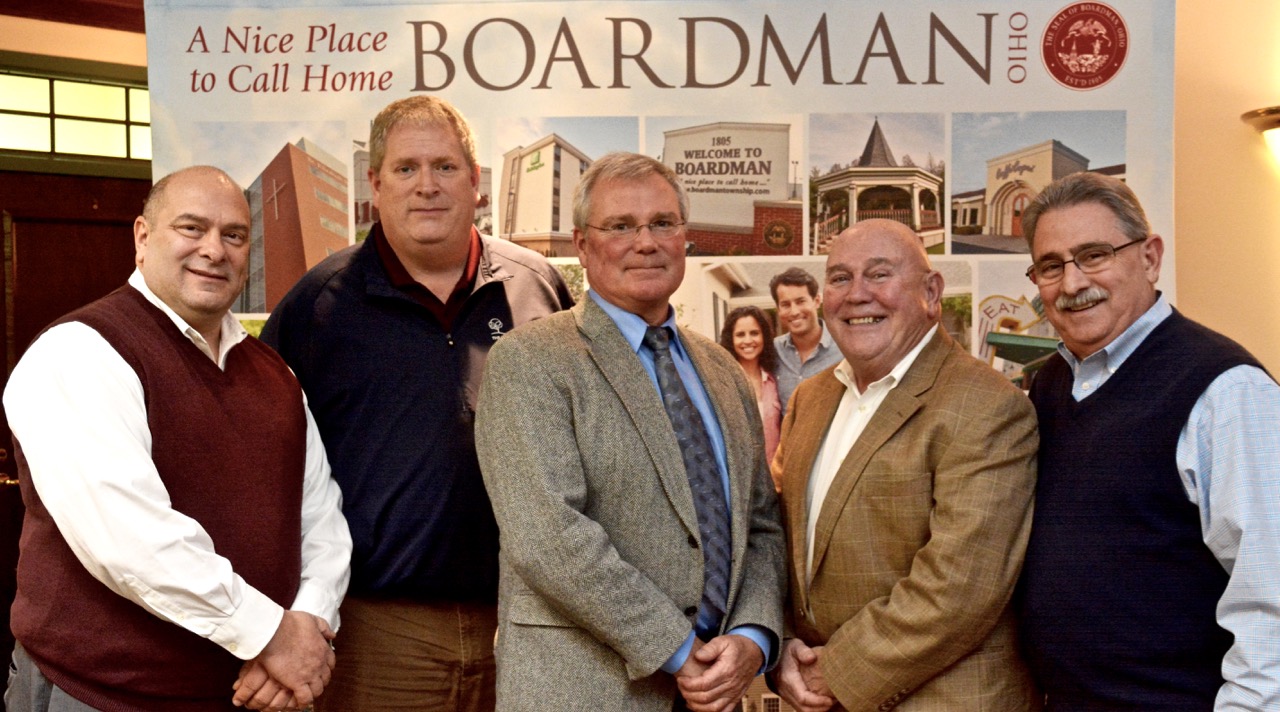 Police Chief Jack Nichols Will Retire in January 2018
At the Township Trustees meeting held on February 13, 2017, the elected officials received notification from Police Chief Jack Nichols that he will retire on January 6, 2018.
Over his 40-year career with the Boardman Township Police Department, Chief Nichols has held the positions of Patrol Officer, Sergeant, Lieutenant, Captain and Chief. He was also assigned to the Special Operations Division as a Detective and completed the Federal Bureau of Investigations Training Program.
Most recently, as Police Chief he was instrumental in determining the need for a new county-wide radio dispatching initiative. The Joint Communications Center, which was designed to improve radio communications across Mahoning County, was developed with the Council of Governments created with the Mahoning County Sheriff's Office, Boardman Township and Austintown Township. This attention to the needs of our community and our safety forces will improve communications for generations to come.
Other notable accomplishments in Chief Nichols' career include his leadership in:
Developing Boardman's Care Call system, which gives senior citizens and citizens with disabilities the option to request a daily safety call to their residence
Working with the Ohio Attorney General's Office to establish a Prescription Drug Drop-Off box for disposal of outdated medications
Increasing the number of School Resource Officers in the Boardman Local School District with support from federal grants and cooperative agreements with the School District
Rebuilding the Police Department with the help of a community-supported Police Levy that allowed the Board of Trustees to hire 15 additional police officers and purchase the equipment necessary to re-establish a positive police presence.
Upon receiving Chief Nichols' retirement letter, Board Chair Tom Costello stated "It has been an honor and a privilege to work alongside Chief Nichols over the years. While he will not be retiring until January, and while I wish him every future success, he will be sorely missed." Vice Chair Brad Calhoun said "Under Chief Nichols' leadership, I am always confident that the safety of our community is in steady hands. I'm happy for him, but will miss him." Trustee Larry Moliterno stated "I have had many opportunities to work with Chief Nichols over the years. I will miss his professionalism, his leadership and his community involvement."
The Township's elected officials will begin a search for a new Police Chief over the course of the next several months and will be looking at both internal and external candidates. Those interested in the position should contact Jason Loree at the the Boardman Township Government Center by calling 330-726-4150 ext. 61817, or by emailing jloree@boardmantwp.com or visiting the Township's website, www.boardmantwp.com.
Pictured in the photo, L–R: Township Trustees Larry Moliterno and Brad Calhoun, Police Chief Jack Nichols, Township Fiscal Officer William Leicht and Township Trustee Tom Costello.